Archives by date
You are browsing the site archives by date.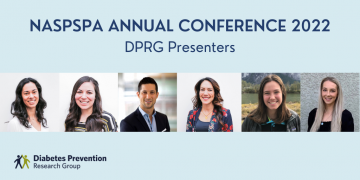 May 26, 2022
There was a strong Diabetes Prevention Research Group presence at this year's North American Society for the Psychology of Sport and Physical Activity (NASPSPA) Annual Conference in Kona, Hawaii. Learn more about our presentations, below. Making the 'MOST' out of your mHealth intervention: How to develop behaviour change interventions using the Multiphase Optimization Strategy. MacPherson, […]
April 5, 2022
This week, Postdoctoral Fellow Dr. Matthew Stork embarks on a new position at Lululemon Athletica! Matt joined the DPRG jointly with the Exercise, Metabolism, and Inflammation Lab (EMIL) as a postdoctoral fellow in 2019. His research has fostered an unique, interdisciplinary scientific approach that ranges from psychology, emotional well-being, and behaviour, to applied physiology, fitness […]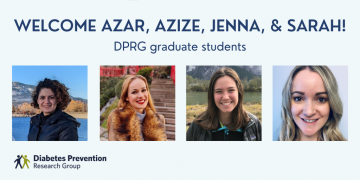 January 26, 2022
We are thrilled to announce that four new graduate students join the Diabetes Prevention Research Group (DPRG) this January 2022!